We've got some exciting news from the Hill. 
Wednesday evening, Representative Kat Cammack, the youngest Republican woman in the U.S. House of Representatives, filed a discharge petition to allow the House the chance to vote on H.R. 619, the Born-Alive Abortion Survivors Protection Act. Last Congress, Speaker Pelosi blocked a vote on this bill more than 75 times. 
What is Speaker Pelosi so afraid of the House voting against? Infanticide. 
You read that right. The Born-Alive Abortion Survivors Protection Act would require an abortionist to treat a baby who survives an abortion with the same level of life-sustaining care that a child born prematurely in any other setting would receive, rather than allowing that to be neglected or killed. Additionally, it would not penalize the mother of the abortion survivor, who we recognize as the secondary abortion victim of a predatory industry. 
In its first legislative day of introduction, this discharge petition broke the record for most signatures, reaching 202 of the 218 signatures needed to bypass Speaker Pelosi and prompt a vote on this bill. 
Today, the signatures are at 205, meaning the petition needs merely 13 more signatures. This is a feasible goal if the 8 other Republicans in the House and 5 Democrats, perhaps one of the many who CLAIM to be "moderate" or "pro-life," sign the petition.  
If anything, this puts your Representatives on the record about whether they oppose infanticide – the killing of an infant child. And we made that clear by sending a score alert, notifying Congress that we would include the discharge petition signatures on our Pro-Life Generation Scorecard for the 117th Congress.  
In a call with Students for Life Action (SFLAction) President Kristan Hawkins yesterday, Congresswoman Cammack emphasized the importance of constituents making their voices heard by urging their Representatives to get to the House floor and sign the discharge petition!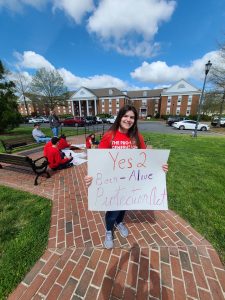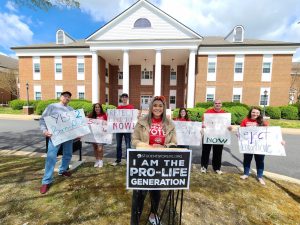 To do this, SFLAction mobilized pro-life activists in 5 Democrat districts on Tuesday, urging their Representatives to sign the discharge petition: 
Rep. Abigail Spanberger D-

V

A 7th District 

at the

 Spotsylvania Office 

(video here)

 

Rep. Conor Lamb D-PA 17

th

 District 

at the

 Pittsburgh Office

 
Rep. Matt Cartwright D-PA 8

th

 District 

at the

 Scranton Office

 

Rep. James Langevin D-RI 2

nd

 District 

at the

 Warwick Office

 

Rep. Henry Cuellar D-TX 28

th

 District 

at the

 San Antonio Office

 
Other SFLAction efforts in support of the discharge petition included: 
Graphics

 for our website and social media platforms

 

Tweets

 at target Democrats

 

Multiple informational and r

eminder email

s

 to 

the 

House

 

Social media ambassador campaign resulting in 6,628 activists engaging about the petition and eager to hear more

 
As we've noted previously: "For those who argue that late-term abortion and infanticide don't take place, consider this from National Review: 'According to estimates from the pro-choice Guttmacher Institute, about 1.3 percent of annual abortions in the U.S. occur after 20 weeks, which does sound rare — until you consider that the Guttmacher also estimates about 926,000 annual abortions, meaning that about 12,000 take place after viability."  
More than 90% of Americans DO NOT support abortion in the last 3 months of pregnancy, nor do they support refusing medical care to babies born during abortions.  
Protecting infants who survive abortions from the violence of infanticide should be a bipartisan issue in Congress, as it is for the American people.  
If your Representative is not on this list of discharge petition signers, contact their office and urge them to sign the discharge petition for H.R. 619, the Born-Alive Abortion Survivors Protection Act TODAY.