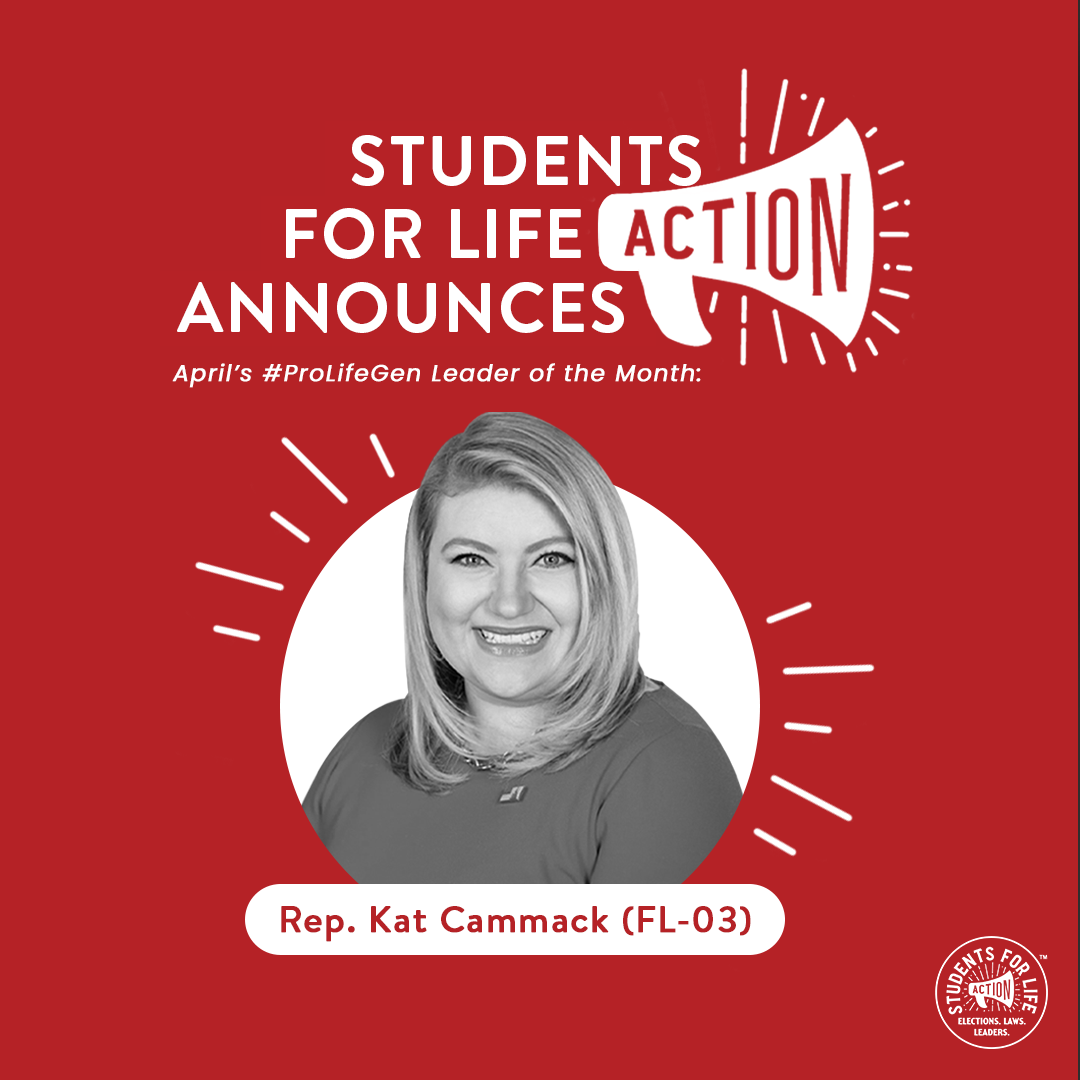 Students for Life Action Presents the April Pro-Life Gen Leader of the Month!
May 5, 2021
Congratulations to SFLAction's April Pro-Life Gen Leader of the Month, Congresswoman Kat Cammack! 
Students for Life Action is launching our Pro-Life Gen Leader & Legislation of the Month. This campaign will highlight federal and state legislators who are working alongside pro-life movement to save lives and end abortion. For our inaugural month, we'd like to recognize pro-life champion Congresswoman Kat Cammack from Florida's 3rd Congressional District. She is currently the youngest Republican woman in the U.S. House of Representatives.  
Rep. Cammack is no stranger to the pro-life movement. In fact, she had a very personal encounter with the predatory abortion industry from the moment her mother found out she was pregnant. 
Cammack's mother, Ginny, suffered a stroke at only 27 years old. At the time, Ginny was pregnant with Cammack's sister and was told she could not survive another pregnancy. When Ginny found herself pregnant again six years later, doctors encouraged her to abort her child. Even Cammack's grandmother begged Ginny to have an abortion. But Ginny refused and defied her doctors' expectations, experiencing heathy pregnancy and successfully raising Cammack as a single mother. 
Cammack was raised by two generations of commercial sandblasters in Colorado. She intended to follow her mother's and grandmother's footsteps, but her family lost their cattle ranch in 2011 due to the Home Affordable Modification Program, leaving them homeless. 
This experience prompted Cammack's interest in politics. She moved across the country to participate in former Congressman Ted Yoho's first campaign before becoming his deputy chief of staff. Within a decade, Cammack went from homeless to the U.S. House of Representatives – succeeding her former boss. 
Rep. Cammack is the epitome of the American Dream. However, we do not just recognize her for her perseverance. Cammack is also a pro-life champion, utilizing her first term to rally fellow members of Congress to sign the discharge petition for H.R. 619, the Born-Alive Abortion Survivors Protection Act alongside Republican Whip Steve Scalise and Rep. Ann Wagner. 
The Born-Alive Abortion Survivors Protection Act would require an abortionist to treat a baby who survives an abortion with the same level of life-sustaining care that a child born prematurely in any other setting would receive, rather than allowing that child to be neglected or killed. Additionally, it would not penalize the mother of the abortion survivor, who we recognize as the secondary abortion victim of a predatory industry. 
Last Congress, Speaker Nancy Pelosi blocked a vote on this bill more than 75 times. But Cammack would not accept this blatant suppression of the will of voters. More than 90% of Americans DO NOT support abortion in the last 3 months of pregnancy, nor do they support refusing medical care to babies born during abortions. 
To bypass Speaker Pelosi, a discharge petition with at least 218 signatures is required. In its first day of introduction, the Born-Alive discharge petition broke the record for most signatures, with 202 signed members of Congress. Today, the signatures are at 209, meaning the petition needs merely 9 more signatures to prompt a vote. This is a feasible goal if the 4 other Republicans in the House of Representatives and merely 5 Democrats sign the petition.  
So far, no Democrats have signed the discharge petition for the Born-Alive Abortion Survivors Protection Act. For this, there are only two explanations: Democratic U.S. Representatives either fear political repercussions from their party, which officially supports taxpayer funded abortion on-demand through all nine months of pregnancy, or they support infanticide. Either reason is absolutely unacceptable. Protecting infants who survive abortions from the violence of infanticide should be a bipartisan issue in Congress, as it is for the American people. 
We know that about 12,000 abortions take place every year in America after viability, meaning Cammack's efforts could potentially save hundreds to thousands of lives should this bill be brought to the House floor and pass. 
Please join us in thanking Congresswoman Cammack for her courage and commitment to protecting our most vulnerable by tweeting her at @RepKatCammack!