Guest post by Claire Anderson, Student Leader from Centreville Region Students for Life.
The Pro-Life Generation showed up in Richmond, Virginia, last weekend in an effort to register pro-life voters for the Gubernatorial Election, as well as the House of Delegates in the state.
Activists with Students for Life Action, in partnership with Family Foundation of Virginia, helped knock on over 4,500 doors in one weekend. Students from the University of Maryland, Centreville Region Students for Life, and Richmond Students For Life helped with the effort.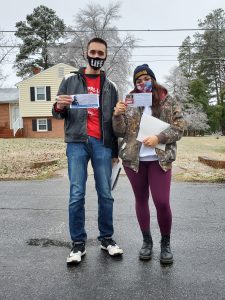 A moment that stood out to me on the trip this weekend was when I arrived at the door of a prospective voter and began having a conversation. The man who answered the door said his family doesn't get into abortion related politics and that they believe that God will eventually change everything. That moment really struck me. 
This mentality is what is keeping the world in the same place. So many people could make a difference if only they had the belief it could make a positive impact. The actions of every individual do make a difference. I personally have seen minds changed and positive development from a small group of people with a common goal. 
When asked about why voter outreach is important, Andrew Jacques, a student leader from University of Maryland who joined us in Richmond said, "I would say voter outreach is important because we need to inform as many people as possible of our current leaders and candidates. What they believe in, and encourage them to take action and vote pro-life first. Because every vote counts and lives are literally at stake."  
The Pro-Life Generation must continue to come together to be the change in Virginia. We have lost ground over the past few years in our state as our government has repealed important laws meant to protect women, such as the ultrasound requirement and the 24 hour wait period. Governor Northam has also implied that if a baby survives a botched abortion, the child does not necessarily deserve resuscitative care.
Despite these setbacks, we know Virginia is truly pro-life and THAT is why we will be here every month on the ground door-knocking. First, we will be reminding Virginia voters to register and vote pro-life. Secondly, as a part of our Richmond Pro-Life Future Campaign, spreading awareness about life affirming resources in our local community. To get involved in Richmond or a city near you, visit https://prolifefuture.org/ or email your Regional Coordinator at (yourstate)@studentsforlife.org.