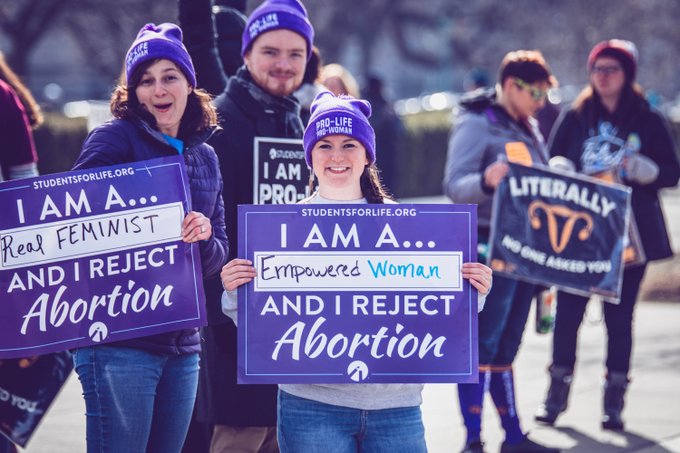 Christian College Removes and Replaces Planned Parenthood After SFL Action Intervenes
June 29, 2020
Bloomfield College, a Presbyterian college in Bloomfield, New Jersey, removed Planned Parenthood from its list of sexual assault resources.
This came after Students for Life Action and our National Field Director sent a letter to Bloomfield College asking them to remove Planned Parenthood from their list of sexual assault resources and replace them with First Choice Pregnancy Center, which provides free STD/STI treatment, and pregnancy testing, and does not commit abortions.
Katie Lodjic, National Field Director for Students for Life Action, has sent over 70 letters to Christian schools, urging them to cut ties with the abortion industry.
Dr. Patrick Lamy, the Vice President for Student Affairs and Community Relations at Bloomfield College, responded and told Students for Life Action, "The College is currently in the process of revising its entire Sexual Assault/Harassment Policies. We will certainly add the removal of the referral to Plan Parenthood on the agenda. The College is also in support of listing First Choice Pregnancy Centers as an added resource….We will be working on the new Sexual Assault/Harassment Policy over the next two to three week, I am copying our Web designer  (Matt) as request to begin identifying and removing references to Planned Parenthood on our site. My sense is that the information may be present in more than one area on our site."
Many times, college administrators are unaware that Planned Parenthood is listed on their website, illustrating the importance of speaking up and requesting that schools cut ties with the abortion industry.
We want to thank Bloomfield College for upholding their Christian values by standing up for the most innocent among us.
This victory follows other wins at Lubbock Christian University, Clarks Summit University, Pepperdine University, Seattle University, Westmont College, the University of Findlay, La Sierra University, Columbia College SC, Edgewood College, and the College of Saint Scholastica.
If your school is promoting Planned Parenthood, please reach out to Katie Lodjic at klodjic@studentsforlife.org today!